World Wide Promotions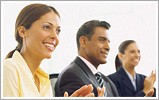 E-Commerce Solutions

Our mission is to formulate a plan including all aspect of the site design, marketing and search engine optimization. In the ever growing and competitive world market it is extremely important that all sectors of a web business be coordinated across the board in order to optimize the success probability. Failure to address important issues at the beginning can require complete redesigns, delays and failure of your e-commerce business. We do not emphasize in one area of web marketing, but look at the whole picture; this greatly increases results and reduces over all costs.







Kenneth Agee CEO





(602) 486-5045